Care, Sustain, Recycle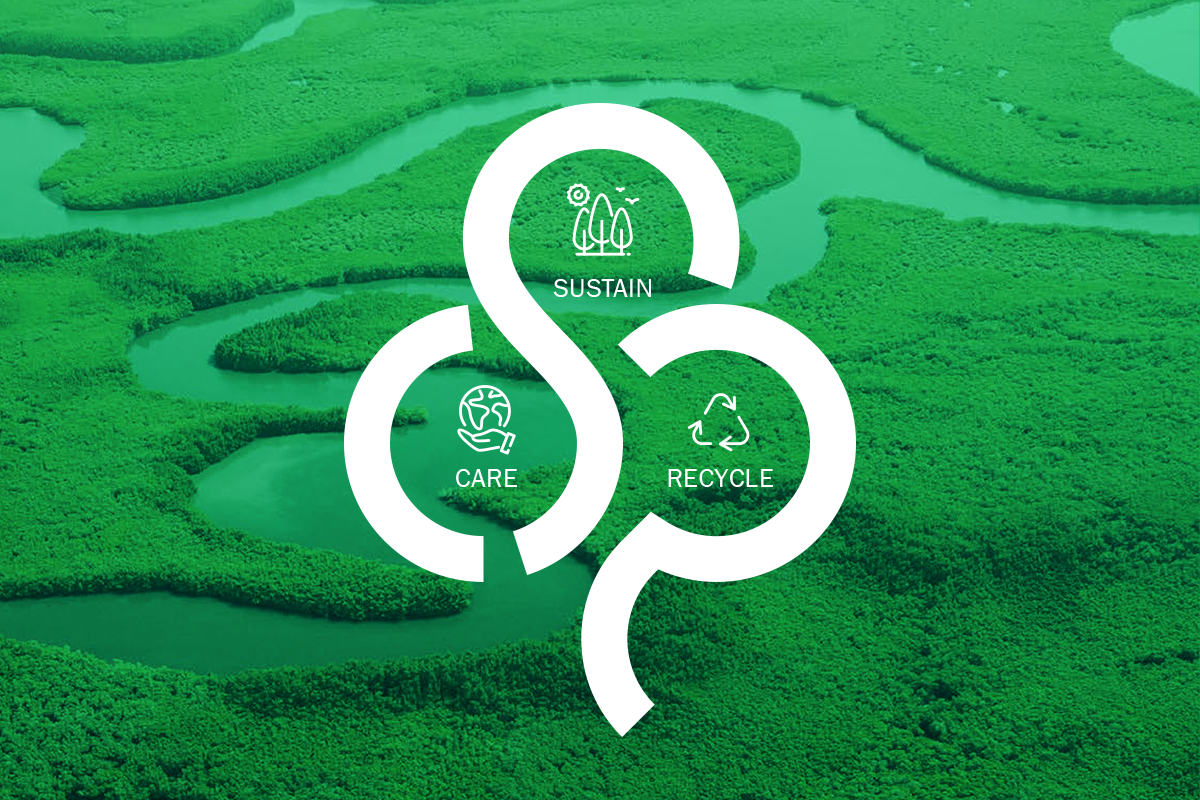 As consumers are more and more environmentally-concerned, it's important to consider what your brand says about your commitment to sustainability. At CANPACK, we offer a range of renewable and recyclable options, including aluminum cans and glass bottles for beverages, and steel cans for food. Our sustainable production methods enable you to lessen the impact on the environment without sacrificing quality or performance.
How sustainability is central to CANPACK operations
Our commitment to sustainability can be summed up in just three words: Care, Sustain & Recycle. These aren't just random terms – they're a philosophy that drives everything we do. We care deeply about our impact on the environment and society, and are always finding new ways to recycle and reuse resources, so that nothing goes to waste.
Care – This pillar defines our obligation towards employees and the local community. This includes health and safety, the protection of human rights, prevention of discrimination, corruption, forced and child labor, as well as community engagement.
Sustain – The second pillar represents our commitment to environmentally friendly policies. We optimize carbon footprint management, regularly look to perfect our strategy towards energy and material efficiency, and make sure that our operations remain in line with global sustainability standards.
Recycle – The third pillar is about our responsibility towards products at every stage of their life cycle. This includes collecting cans and educational programs which encourage recycling. Everything is tweaked and optimized in order to both achieve and support a circular sustainability economy
Our commitment to Care, Sustain & Recycle isn't just talk – it's reflected in the real world.
We care about our employees and provide them with a healthy and safe workplace. From silent areas to prevent stress, to regular safety inspections and precise procedures for dealing with hazardous substances, we strive to prioritize the well-being of our team. One of our CANPACK plants in India even received a "Platinum status" award from the Indian Green Building Council for its exceptional efforts in creating a safe and healthy workplace. "Safety First" is more than just a motto – it's our guiding principle and we go above and beyond to ensure our employees feel both valued and protected.
When it comes to the sustain pillar and in alignment with our science-based targets, we look to reduce our carbon footprint and focus on conserving resources. We use solar panels in select factories to produce energy, and regularly assess machine usage to optimize overall efficiency. But we also recognize the importance of educating our employees and our entire value chain on sustainable practices, offering a variety of programs to raise awareness and promote energy conservation. Our involvement in the "Business vs. Smog" project, which aims to promote education and counteract air pollution, is just one example of our dedication to making a positive impact on the environment.
Our efforts haven't gone unnoticed. We're thrilled to have received a Platinum medal from EcoVadis for our social and environmental activities, recognizing our commitment to corporate social responsibility. Furthermore, our company has been recognized by CDP with a Supplier Engagement Rating (SER) of 'A' for promoting reductions in emissions across its supply chains, which promotes CANPACK to 'Leadership' level for this important measure (learn more https://www.canpack.com/news/cdp-awards-canpack-the-highest-supplier-engagement-a-rating/)
With the recycle pillar, we don't just make products that can be recycled – we actively encourage people to recycle through programs like Every Can Counts. And we don't stop there – our dedicated recycling companies in Poland and Romania collect used beverage cans and prepare them for efficient recycling. Overall, we recycle up to 95% of the waste generated during our manufacturing process!
But our commitment to sustainability doesn't end there. We're constantly looking for new ways to extract the most value out of materials used throughout the manufacturing process, and we're proud to support environmental and social awareness projects in the communities where we operate. We believe that every small action can make a big impact, and we're dedicated to doing our part to make a positive change for the planet.
CANPACK sustainable solutions
We focus on creating packaging made of materials that can be perpetually recycled, and our experts are always on the lookout for ways to reduce material usage during production. One way they achieved this is by slimming down steel packaging, aerosol cans, aluminum cans, and crown corks/closures. Take a look at some of the solutions we've implemented on our sustainability journey:
Ultra-light SMART bottle – Each bottle is specially crafted to fit its intended purpose perfectly, resulting in a tailor-made experience. Our ultra-light design is not only durable but also sleek and ergonomic, providing the ultimate drinking experience.
Ultra-thin steel can – Our experts have utilized modern production technology to create cans that are lightweight, ultra-thin, and still incredibly durable. These sleek cans are the perfect solution for storing your dry and loose food products.
Lightweight aerosol cans – These cans save precious resources and energy through the reduction of body thickness by 11.5% when compared to standard options.
Ultra-light caps – A new generation of reduced-weight corks that are just 0.17 mm thick, while remaining easy to adapt and customize to fit your unique needs.
Learn more from the CANPACK Report
Our commitment to Care, Sustain and Recycle is no secret, and we're proud to make detailed information about our sustainability efforts available in our comprehensive Sustainability Report. Download it now to discover what we're doing to make a positive impact on the environment and society as a whole.
In our report, you'll find a wealth of information about our initiatives, including our commitment to zero waste, our production of recyclable packaging, and our continuing effort to advance the circular economy. We're dedicated to responsible operation, improved water stewardship, reducing our carbon footprint, and saving energy and materials wherever we can.
We're also committed to upholding the rights and dignity of all our employees, advocating for gender equality, and much more. As Marius Croitoru, our CEO says, "These are only the first of many steps on our sustainability journey. The next step in our agenda is to increase cooperation with all business partners, clients, suppliers, and competitors to make the entire industry more sustainable."