FAQs
General FAQs
Who is CANPACK?
CANPACK is a leading global provider of high-quality, sustainable, modern packaging solutions. We manufacture high-quality aluminium cans, glass containers and metal closures for the beverage industry, and steel cans for the food and chemical industries. Headquartered in Kraków (Poland), we serve customers in approximately 95 countries worldwide. Over the last 30 years, we have expanded our geographical reach through primarily greenfield investments driven by our customers' requirements.
How many employees do CANPACK have?
CANPACK employs nearly 9,000 employees worldwide in 28 plants located in 16 countries across Asia, Europe, the Middle East, North Africa and South America, and expanding its footprint in North America, the world's largest market for aluminium beverage cans.
What are CANPACK's vision, mission and values?
Our vision is to redefine what's possible with packaging – for consumers, businesses and the planet.
Our mission is to be the global partner of choice for impactful, experience-enhancing and sustainable packaging solutions – energising customers, connecting with consumers and inspiring employees to push boundaries.
Our values are embedded across the whole group in Quality, Innovation, Respect, Safety, Teamwork and Integrity.
What are CANPACK's competitive strengths?
We believe our competitive strengths include:
Attractive industry fundamentals in the global beverage can industry
Favourable outlook for aluminium beverage cans driven by focus on sustainability, product flexibility and technological innovation
Differentiated business model with unique competitive advantages and leading technical capabilities
Proven track record of new market entry through successful greenfield investments
Long-term relationships with diverse blue-chip customer base
Conservative financial profile with disciplined management
What kind of role does sustainability play at CANPACK?
Sustainability is at the core of our operations and corporate culture. At CANPACK we have three sustainability pillars: Care, Sustain and Recycle. These ensure that we always remain conscious of evolving consumer expectations and our wider role in society. Please read our sustainability report for more details.
Can you tell me a little bit about CANPACK's history?
We have been growing internationally since we were established as a metal packaging business in Poland in 1992. Over this time, we have moved beyond our initial can offering to become one of the leading manufacturers in the beverage packaging industry in Central and Eastern Europe, and have strengthened our market position in Africa, Asia, Western and Northern Europe, South and most recently North America. Our global footprint has expanded primarily through organic growth via greenfield expansion. These developments have been driven by our key customers seeking new products, capabilities and innovation.
How can I keep up to date with CANPACK news & events?
Please visit our news website to keep updated with our news. Also follow us on LinkedIn for our latest news.
Bond FAQs
What are CANPACK's issued bonds?
On October 26, 2020, CANPACK S.A. and CANPACK US LLC (previously Eastern PA Land Investment Holding LLC) co-issued (i) €600,000,000 aggregate principal amount of 2.375% Senior Notes due 2027 and (ii) $400,000,000 aggregate principal amount of 3.125% Senior Notes due 2025. On October 12, 2021 CANPACK S.A. and CANPACK US LLC issued $800 million aggregate principal amount of 3.875% Senior Notes due 2029.
Please visit Bond Profile for more information.
What are the credit ratings of CANPACK's bonds?
Are CANPACK's bonds listed? Where can I find their prices?
Yes, the current outstanding bonds are listed on Luxembourg Stock Exchange's Euro MTF market. Their market pricing can be obtained via banks or financial data providers, such as Bloomberg and Reuters.
Where can I get CANPACK's historical financial information?
When is CANPACK's next results announcement?
Who should I contact for questions related to CANPACK's bonds?
CANPACK IR Team
Lorenzo Ruffatti 
Group Treasury Director
Marta Kopcik 
Group Communications Manager
Email: IR@canpack.com
CANPACK IR Advisor
Li Zhao – Maitland/AMO
Phone: +44 (0) 207 379 5151
Email: canpack@maitland.co.uk
ESG FAQs
ENVIRONMENT
Does your company have a formalised environmental policy?
Yes. CANPACK has in place a range of policies that cover environmental issues. Indeed, environmental issues are covered in the company's Environmental, Health & Safety, Sustainability, Code of Conduct and Suppliers Code of Conduct policies.
Has your company been awarded any environmental management system certification?
All of CANPACK's production facilities have implemented an environmental management system. At present (December 2021) over 50% are certified against ISO 14 001. In our Group EHS Policy we commit ourselves to have 100% of our production facilities covered by ISO 14 001 by 2023.
Our aluminium can production facility in Scunthorpe, UK has achieved ISO 50 001 certification. We are going to acquire the same certification in our plant in Brzesko, Poland as well.
What is CANPACK's attitude towards Science Based Targets?
In November 2021 CANPACK Group commited itself towards achieving Science Based Targets covering its Scope 1, Scope 2 and Scope 3 emissions. CANPACK Group awaits validation of these targets by the Science Based Targets Initiative.
CANPACK has externally verified its Scope 1, 2 and 3 emissions. It has also managed to reduce its relative carbon footprint across all divisions and absolute Scope 1 and 2 reduction since 2017 despite production growth.
Does CANPACK have targets in place regarding the share of renewable energy used by CANPACK?
In 2022 CANPACK Group started procuring 100% renewable electricity where available, and where not available the company will purchase Energy Attribute Certificates or comparable certificates. Also, where it is feasible, we have also invested in on-site solar power.
In addition to these investments we are also awaiting external validation of an overall carbon footprint reduction target which will complement our reduction targets for energy and water consumption and waste generation.
CANPACK's report shows an increase of water consumption and energy consumption in waste generation; do you have targets in place in order to reverse this trend?
Expressed in absolute terms CANPACK's overall energy and water consumption has increased, however, this increase is due to significant growth. Expressed relatively the average consumption of energy and water per million units has actually decreased (2019 vs 2020) by 18%. In 2020 we introduced 2025 targets across all of our plants to reduce our consumption, and also have in place targets for 2030 which will be reviewed in 2025. Finally we are now awaiting validation of science based targets. Below are CANPACK's 2025 aluminium can targets.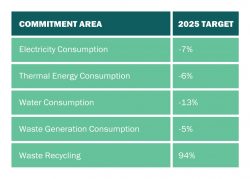 The sustainability report states that 4% of plants are compliant with the ISO 5001 standard certification, do you have internal targets in place to increase this rate?
Although we do not have a specific target in place to introduce the ISO 50001 standard, we are investigating the adoption of this standard. Indeed in 2022 we are going to conduct an ISO 50 001 audit in our plant in Brzesko, Poland. From a manufacturing point of view, we are committed to energy and water reduction targets and implementing best in class practices and procedures.
Do you have targets in place regarding the recycling rate of beverage cans?
CANPACK, alongside the whole industry, is focused on playing its part to ensure that every single can is recycled. Indeed it is why we are fully involved in initiatives like 'Every Can Counts'. As an industry we support the improvement of existing collection and recycling infrastructures, raising consumer awareness of the issues and supporting good regulations. Further, in Poland and Romania, CP Recycling, a member of the CANPACK Group, has a leadership role in aluminum can recycling efforts.
Could you tell us more about initiatives relative to the circular economy within the company?
As a business we are fortunate enough to work with permanent materials which are infinitely recyclable and as such we are committed to ensuring that our 'cradle to cradle' processes are as efficient and effective as possible. This includes participating in consumer education campaigns through 'Every Can Counts' to encourage consumers to recycle more and investing in dedicated can collection centres in Poland and Romania via our CP Recycling business.
In addition to encouraging 'cradle to cradle' practices we continuously look at ways in which we can lightweight our cans and bottles and we explore ways in which we can make the most of the waste produced in our factories, for example we use varnish waste as the basis of a new 'black' colour.
What actions are in place regarding water management?
Although child and forced labour as well as slavery and human trafficking are specifically addressed as key issues in CANPACK's Code of Conduct and Suppliers Code of Conduct, in order to effectively mitigate the risk of child or forced labour the business performs risk assessments, including at the production facilities of its supply chain partners. The issue is also a central part of business training programmes and employees are actively encouraged to report any incidents through our whistleblowing mechanism.
To express our legal, moral and commercial responsibility towards respecting human rights, to establish a basic management framework on these issues, and to support our employees in achieving this goal, we have developed the Human Rights Policy available on our website.
SOCIAL
What actions are in place regarding employee health and safety?
Safety is of enormous importance to CANPACK and it is one of our six values. As a business we have implemented a vast array of measures that focus on further improving the health and safety environment for our employees and external subcontractors.
Across all of our sites we have implemented the VelocityEHS® which allows us to monitor and improve our health and safety related KPIs. We have also implemented and continue to implement new projects and awareness campaigns to help us achieve our ultimate goal of 'zero lost time accidents'.
All employees are provided with high quality Personal Protective Equipment required to do their job and all health and safety processes and procedures are communicated in a language that is understood by the relevant employees.
Do you have a policy & objectives in place to facilitate / increase the employment of disabled people?
CANPACK is a signatory of UNGC and we support all 10 principles, including the elimination of discrimination in the workplace. This approach is also an integral part of our values and code of conduct. We also believe that responsibility for these issues rests in our supply chain so we expect the same high standards from our suppliers.
Although we have no specific target to increase the number of disabled people we employ, where it is appropriate and necessary, we ensure that special equipment and operational modifications are put in place.
What actions are in place to address child labour, slavery and/or human trafficking?
Although child and forced labour as well as slavery and human trafficking are specifically addressed as key issues in CANPACK's Code of Conduct and Suppliers Code of Conduct, in order to effectively mitigate the risk of child or forced labour the business performs risk assessments, including at the production facilities of its supply chain partners. The issue is also a central part of business training programmes and employees are actively encouraged to report any incidents through our whistleblowing mechanism.
To express our legal, moral and commercial responsibility towards respecting human rights, to establish a basic management framework on these issues, and to support our employees in achieving this goal, we have developed the Human Rights Policy available on our website.
How does the company recognise its social responsibility as a member of business and local communities?
CANPACK's first sustainability pillar, Care, sets out the business's responsibilities to its employees and local communities. It includes health and safety; the protection of human rights; the prevention of discrimination, corruption, forced labour and child labour; as well as community engagement. The activities undertaken by CANPACK within this pillar are consistent with the United Nations Global Compact principles and reflect the company's contribution to the implementation of Sustainable Development Goals (SDGs) established by UN Member States in 2015.
How does the company promote respecting human rights, including diversity?
CANPACK is committed to ensuring that every effort is made to create an environment which respects the rich, diverse social, ethnic and cultural backgrounds of its employees. Indeed, CANPACK's values include integrity, respect, and teamwork. The business strives to integrate workers with disabilities and to ensure that equal employment opportunities and favourable working conditions are enjoyed by all. In-order to help ensure fairness and consistency the company has implemented a global system to help ensure comparable employment conditions and benefits to comparable positions taking into account local laws and norms regardless of where an employee is located. CANPACK also promotes an anti-discriminatory culture through dedicated training programmes and a Speak-Up helpline. Finally, the Diversity and Inclusion Policy we implemented in 2021 reinforces our commitment to providing equality and fairness to all employees and not provide less favourable treatment on the grounds of age, disability, gender, marriage and civil partnership, pregnancy and maternity, race, ethnic origin, colour, nationality, national origin, religion or belief, gender reassignment, or sex and sexual orientation. We are opposed to all forms of unlawful and unfair discrimination.
GOVERNANCE
Is there board-level oversight of sustainability-related topics within your organisation?
The CANPACK Sustainability Committee is headed by the CANPACK CEO, and consists of top executives within the CANPACK Group and within Giorgi Global Holdings, including CANPACK's CEO and Director of Sustainability. The Committee meets at least once per each quarter and is responsible for:
 Approving and reviewing the sustainability strategy and priorities (including climate change issues);
 Reviewing performance of actions under the sustainability pillars;
Discussing and addressing as appropriate important global sustainability challenges; and
Promoting sustainability at CANPACK. For example, as a result of a decision made by the sustainability committee all production facility managers are required to set environmental targets related to energy & water consumption, waste generation and waste to recycling.
Examples of matters evaluted and implemented by the committee include the roadmap to CANPACK's participation in Science Based Targets, and the adoption by all plants of targets relating to: energy & water consumption, waste generation and waste to recycling.
Does your organisation have a process for identifying, assessing, and responding to sustainability related risks and opportunities?
Yes. Relevant business issues are assessed from a probability and an impact perspective. As each issue is independently evaluated it is given a score between 1 and 5 (5 being considered of greatest risk and 1 lowest risk). Once the scores are multiplied any issues that have a score above 15 are considered substantial risks. The impact of each risk is then considered from three perspectives: financial, quality and time.
Does your company formally and publicly adhere to any external sustainability initiatives or sets of principles?
In 2019, CANPACK joined the UN Global Compact which commits it to supporting ten principles related to Human Rights, Labour, the Environment and Anticorruption.
Does your company communicate progress towards Sustainable Development Goals (SDGs)?
As a signatory of the UN Global Compact, CANPACK is committed to communicating progress on sustainability related issues on an annual basis. This action helps achieve the Sustainable Development Goals.
What actions are in place so that social or environmental factors are integrated into your procurement processes?
All CANPACK suppliers are required to work in line with our Supplier Code of Conduct. Both social and environmental issues are also verified through self-evaluation assessments and onsite audits. Furthermore, our strategic suppliers are required to report their carbon footprint management / performance using CDP.
In addition to the codes and policies, we engage with our suppliers regarding sustainability on a regular basis. In 2021, we had our sustainable supplier day, when we spoke to our key suppliers to understand their sustainability credentials, practices and targets (e.g., their renewable energy usage).
What actions are in place to prevent corruption, bribery, and anticompetitive practices?
We have implemented anti-corruption and anti-fraud policies and periodic compliance audits and assessments. These issues are also an integral part of our employees' code of conduct training programme.
What ESG ratings or awards does CANPACK have?
Our commitment to conduct business in an environmentally and socially responsible manner is demonstrated by the number of awards we've received. Of particular significance is the Gold Rating from EcoVadis which places CANPACK in the top 5% of the 70,000 companies assessed by EcoVadis in 2020 and the B 'climate change' score from CDP which was achieved in just three years. Other highlights include: CEE's Best Sustainable Packaging Solutions award for our outstanding commitment to employees, communities and the environment; the Fair Company award which formally recognises CANPACK as a CSR Leader; and the Green Company award which recognises the measures we've put in place to reduce the total environmental impact of our activity.
Does the company have a dedicated sustainability unit?
Yes. CANPACK has a fully integrated Sustainability Office supported by a strong team of experts in each of its production facilities. The Sustainability Office, working alongside the production facilities and relevant global departments, regularly monitors, analyses, reports and identifies opportunities for improvement. CANPACK also has a Sustainability Committee that approves and reviews the businesses' sustainability strategy, reviews performance, and identifies priorities. Another important role is played by Sustainability Champions, a group of employees representing each plant, who are particularly strongly involved in environmental and social activities. They support us locally in promoting our goals, raising awareness in plants, and collecting data which expedites our reporting processes.
How frequently does CANPACK monitor its environmental, social, and economic indicators and on which sustainability issues are there KPIs?
CANPACK continuously monitors its sustainability KPIs at all of its sites and it formally reports progress on an annual basis. The KPIs cover all three of CANPACK's sustainability pillars, namely Care, Sustain and Recycle. Examples of KPIs include: number of lost time injury events; percentage of women in executive positions; number of community projects in place; electricity and thermal energy consumption; water consumption; waste generation and recycling; and percentage of recycled materials used.
How does the company communicate progress against its sustainability strategy?
Progress against the company's sustainability strategy is primarily done through EcoVadis with CANPACK reporting progress against four key areas: Environment, Labour and Human Rights, Ethics, and Sustainable Procurement. Through EcoVadis, CANPACK also works with its suppliers to ensure that sustainability practices are also integrated into its supply chains. The results are publicly communicated through CANPACK's website and via social media. In 2021, CANPACK achieved a Gold Rating (see above). In addition to EcoVadis, CANPACK reports its climate change reduction activities through CDP.
Finally, a complete picture of progress against CANPACK's sustainability strategy can be found in its sustainability report, which is also submitted to the UNGC and via its sustainability section of CANPACK website.
What reporting standards regarding sustainability / ESG does the company adhere to?
CANPACK adheres to the reporting standards set by UN Global Compact (UNGC) . This includes 10 principles across 4 key areas: Human Rights, Labour, Environment, and Anti-Corruption.
What is the company's attitude towards ethical supply chain sourcing, such as conflict-free minerals?
CANPACK prohibits the procurement of materials containing minerals which originate from entities supporting conflicts or benefitting armed groups. The extraction of these minerals are often related to human rights infringements including forced labour and the abuse of women and children. To ensure that the raw materials needed to manufacture the products made by CANPACK are sourced from conflict-free areas, the company follows strict procedures based on applicable national and international guidelines, including "Due Diligence Guidance for Responsible Supply Chains of Minerals from Conflict-Affected and High-Risk Areas" issued by the OECD. The company's commitment is formally covered by CANPACK Group's Conflict Minerals Policy.