How to design an attractive aluminum beverage can for your brand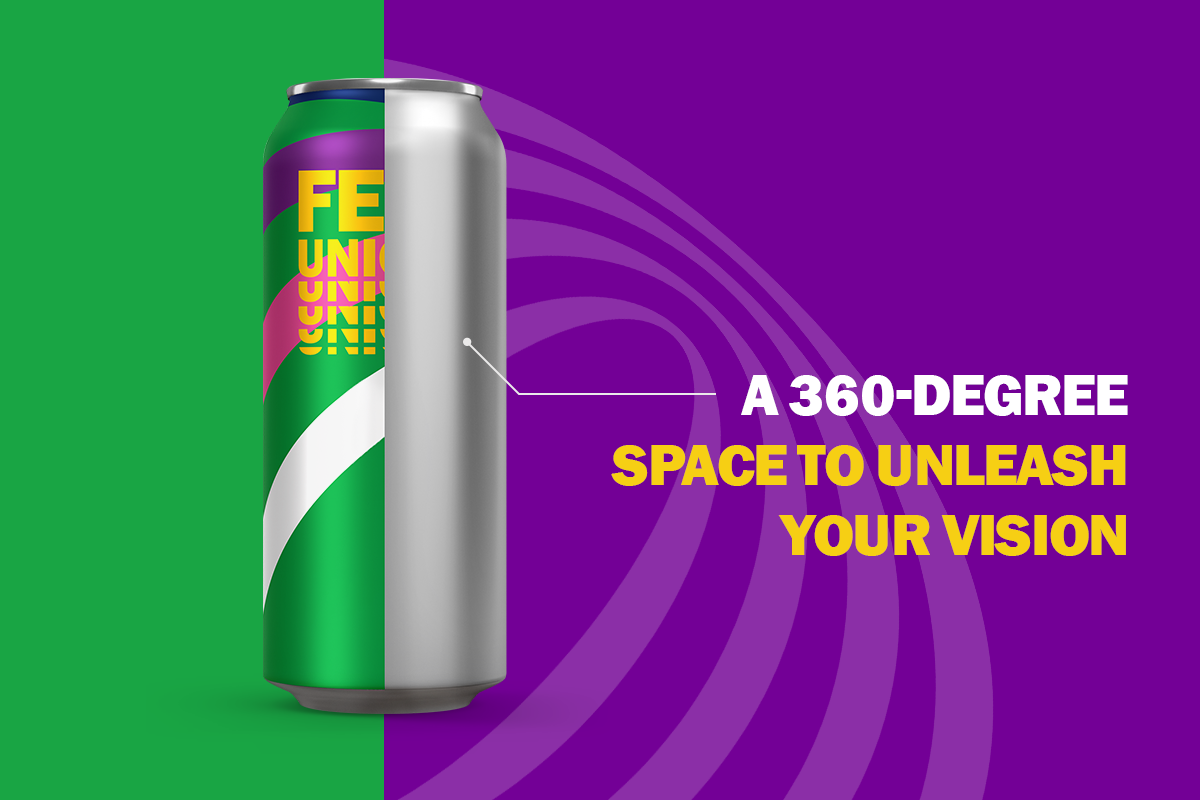 In a world where first impressions matter more than ever, don't let your product packaging fall short. It's not just a container, it's an extension of your brand and a reflection of its personality. At CANPACK, we understand that the look and feel of packaging can be a critical moment for your consumers. That's why we don't just focus on production, we partner with you to create a standout experience that both builds trust in your brand and establishes a potential lifetime connection.
Aluminum beverage cans have become an essential packaging material for soft drinks, energy drinks, beer, and more. Not only do they provide a convenient, lightweight, and portable option for consumers, but they are also sustainable and recyclable. However, with so many brands vying for attention on store shelves, designing an eye-catching aluminum can for your product can make all the difference in attracting consumers and driving sales. In this article, we'll provide some tips and tricks to help you create an aluminum beverage can that both stands out from the crowd and effectively communicates your brand's identity and values.
Aluminum can design: key to brand identity
Designing an aluminum beverage can is no longer just about functionality – it's a chance to showcase your company's identity and create a unique experience for your consumers. We believe that a can is never just a can, it's a blank canvas waiting to be transformed into a masterpiece that tells your brand's story. From colors and textures to graphics and typography, the possibilities are endless.
At CANPACK, we understand the importance of creating a can that stands out on the shelves and represents your brand in the best possible light. Our experienced graphic and production teams occasionally collaborate with customers to generate ideas, improve packaging concepts, and design compositions that aim to inspire. We take special care with every detail, from beverage can ends to tabs and more, to ensure a flawless end product.
We offer a wide range of aluminum can sizes to suit every need. Whether you're creating a "wellness" drink, super shot, craft beverage, or limited edition, we have 22 different can sizes of varying heights and widths to choose from. With our flexible manufacturing options, we are here to assist you in creating a can that suits your product and captures the essence of your brand.
Enhancing aluminum cans with tactile and visual effects
The touch and feel experience can make a big difference. A well-designed can with a rough or matt texture is not only pleasant to the touch, it often makes people want to explore the can closer and from every angle. These specially fabricated textures also aid in grip, and make consumers feel like they're holding something extraordinary in their hands. By adding these features to your product, you can create a distinct sensory experience like no other.
We also offer a range of customizable can features, including tab shapes, opening styles, and opening sizes. From classic shapes to promotional options, you can choose the perfect tab to complement your design. And when it comes to opening sizes, they can also be customized to suit your needs. These little details may seem insignificant at first, but they can add just the right amount of oomph to your final product.
The customization doesn't stop there. Laser engravings on can openings or pull tabs can also be tools of intrigue. You can choose from an incredibly wide variety of color combinations, add promotional codes, pictograms, or even emboss a message to engage with the consumer. By doing so, you're establishing a relationship that goes beyond just the product. This unique form of connectivity can make consumers feel rewarded for choosing your brand, while creating a distinct experience for them during the consumption process.
In the world of product packaging, blending in may not always yield the best results, particularly when it comes to special occasions. That's why we offer a range of technologies and production capabilities for creating eye-catching aluminum cans, including special editions, retro reissues, and more. Whether it's a New Year's celebration or a Christmas gathering, our packaging can make your product an important part of the occasion. Our shiny, flickering #PEARL varnish adds a touch of glamour to banquet interiors, while our UV cans and glow-in-the-dark ink intensify the atmosphere of carnivals, Halloween parties, and summer events! These features make your product an inseparable part of the event, ensuring it remains in the minds of consumers long after the party is over.
Let's work on your aluminum can design together
Aluminum cans have never looked so good! With new designs popping up every day, yours could be the next big thing. Let us help you take your product packaging to the next level and create a marketing masterpiece that will leave the competition in the dust.
Our experts will guide you from the very start to final production, ensuring your brand's unique story is visually conveyed and your product stands out. With customization options galore, including sizes, colors, special effects, textures, and other features discussed above, we'll provide your customers with an unforgettable experience that keeps them coming back for more.
CANPACK is a prominent player in project development and marketing for a wide variety of brands, with dedicated marketing and graphic teams always ready to offer support and propose innovative ideas. Partner with us early in the process, and let's make your packaging dreams a reality. In the words of Michał Schilbach, our Global Marketing Manager, "We can provide creative support at the concept creation stage. We also have the right tools and expertise in design pre-testing and the rapid trailing of prototypes. We invite our partners to work with us at the early stages of the packaging concept."