How does packaging design influence consumer choices?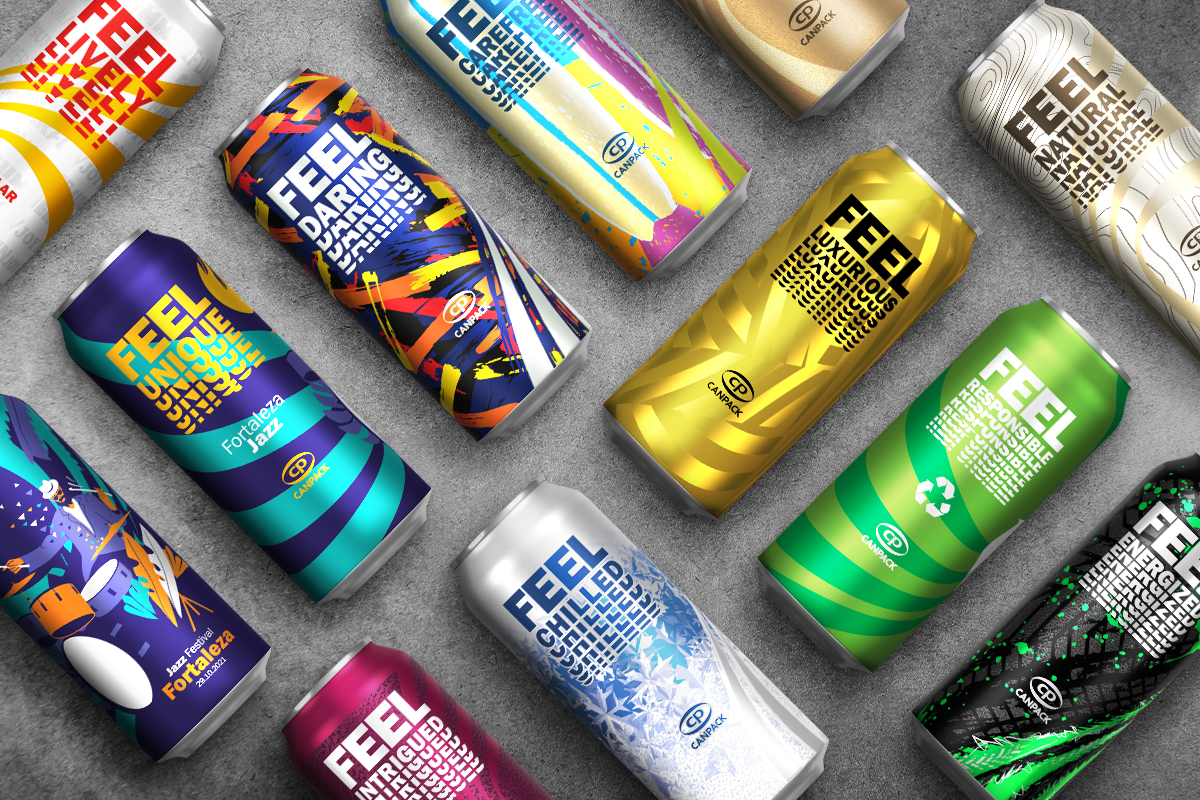 Products require great packaging – this is a major contributor to a brand's success. Clear, attractive packaging designs motivate consumers to make purchasing decisions and enable brands to stand out on the shelves.
Aluminum cans – such as those manufactured by CANPACK – have long been touted as the perfect packaging, offering sustainability, functionality and ease of use/portability. At the most fundamental level, cans protect the product, and provide a hygienic, safe and convenient vessel for that product to be stored, transported and consumed.
But first impressions also matter. Packaging is a story-telling device, allowing brands to showcase their identity and values while engaging with shoppers directly. As today's consumers are faced with an ever-increasing number of purchasing decisions and choices, selecting the right branding and packaging design can help communicate your message visually, and position it front and center in a crowded marketplace.
Branding and packaging design go hand-in-hand
Branding is all about creating a strong, positive perception of a company – and its products/services – in the consumer's mind.
Product and packaging design is a key element in establishing this perception. This can impact purchasing decisions – even for consumers with no intention of making a purchase. It can convey information to consumers about the value, brand attributes and benefits they will receive from the product inside.
Many consumers are willing to try something new solely because the packaging caught their eye. Similarly, repeat purchase is likely to occur simply because consumers enjoy the appearance or aesthetic of the packaging itself.
The design of a can or bottle can also influence consumers' emotions through aspects like color, typography and material. The psychology of color plays an incredibly important role in packaging and marketing. The right choice of color(s) can significantly increase brand recognition/association, and influence purchase decisions. This tool becomes even more powerful when combined with special patterns, effects and textures.
Product and packaging design can connect with consumers
At CANPACK, we have a diverse range of product packaging solutions in our portfolio – ready to help brands reinforce their identity and tell their story. Our expert team partners with companies to achieve their vision, creates business value, and advises customers on their branding and packaging design (if or when necessary).
Our extensive offer includes the printing of beverage cans in various colors and over 20 different visually enhancing effects. The #MULTIPRINT can printing solution, for instance, can be used for special occasions and collector's edition packaging. With this technology, we can print up to 24 packaging designs in one production batch, making it possible to build a strong bond with the consumer and ensure your brand shines brighter than ever before.
In addition, effects like #MATT or #SATIN emphasize the premium character of a product. Cans that utilize these effects are unique and offer consumers an unforgettable tactile experience. These individualized product and packaging designs – and many more – enable CANPACK to make your brand memorable, leaving a lasting impression on consumers' minds.
Our skills in action
Here are two examples of how we've helped brands stand out from the crowd with our innovative product and packaging designs:
Pilsner Urquell – Four custom hockey-themed cans were created for the Czech beer brand, aimed at capturing the feeling of being in the rink and representing key sports visuals. By using #QUADROMIX, it was possible to print four different graphics within one production run. The #THERMO effect exposed a hidden inscription after the product had been properly cooled, and was combined with the #TACTILE texture on selected graphic elements, giving the consumer a unique touch experience. The project won an award in the prestigious Cans of The Year Awards industry competition, organized by The Canmaker magazine.
Shepherd Neame, Spitfire – CANPACK created new cans for the UK's oldest brewery and its iconic Spitfire beer. By using the #MATT effect, our team enabled the brand to create a contemporary and sophisticated feel, while also making the cans visually attractive. The project is a celebration of the brand's heritage and values, which is of key importance to consumers of these products.
Influencing consumers through a commitment to sustainability
It's not just bold and unique branding and packaging design that connect with today's consumers – companies must also strive for a deeper connection by flexing their sustainability credentials. That's why one of our top priorities is the responsible production of cans, bottles and caps.
Over the years, our experienced team has developed a variety of environmentally focused solutions, and we take great pleasure in partnering with customers on their sustainability journey. Find out more on our website: https://www.canpack.com/sustainability/
Our product packaging is fully recyclable, which corresponds with current sustainability trends among consumers. As consumption patterns continue to evolve, we like to react and adapt quickly to meeting both global trends and customer expectations.
In these scenarios, the proactive nature and flexibility of our creative and production teams are incredibly valuable. We have collaborated with some of the greatest and most recognizable food and beverage brands in the world, working with over 7,000 designs annually.
Let's work together to make sure your packaging will leave an unforgettable impression.