Enhancing aerosol packaging: Customizable and sustainable solutions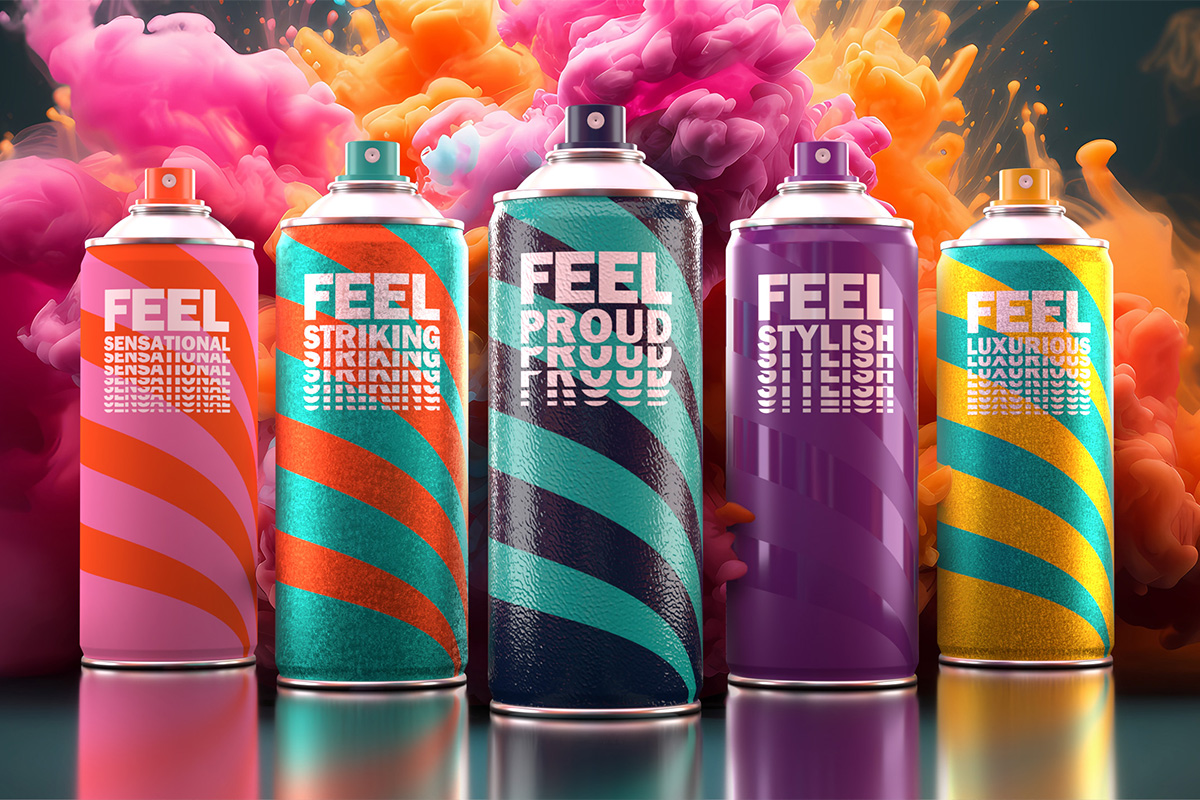 From fresh mists to powerful sprays, aerosol packaging has become pervasive in our daily lives, finding applications in a diverse range of industries. From personal care products like hairsprays and deodorants to automotive lubricants, construction adhesives and foams, medical disinfectants, and inhalers, aerosol packaging showcases remarkable versatility and efficiency.
The origins of aerosol packaging
Pressurized containers underwent numerous iterations before becoming practical for everyday use. In the mid to late 1800s, the first metal spray cans were still undergoing tests. However, they were considerably heavier than today's standards and suffered from quick pressure loss, which was only made worse by their large size.
During times of war, innovation accelerates due to necessity and competition. In 1943, the U.S. government funded research for a compact and easily transportable container for anti-malaria bug spray. This goal led researchers Lyle Goodhue and William Sullivan to create an aerosol container pressurized through liquefied gas, and the rest, as they say, is history.
Which industries use aerosol packaging?
Aerosol containers are indispensable for numerous companies, ensuring both profitability and operational efficiency. These containers effectively package a diverse range of liquids and are renowned for their leak-proof properties and remarkable versatility. Notably, personal hygiene products like hairsprays and deodorants are conveniently and efficiently distributed through the use of propellants. Aerosol technology has also revolutionized home renovation by providing convenient storage solutions for paint and various substances. In the automotive industry, specialized aerosol products for care and maintenance have become a global standard.
In the healthcare sector, one of the most crucial applications for aerosol cans is found in asthma inhalers. These ultra-compact pressurized containers are relied upon by countless individuals to lead normal lives and breathe more comfortably. In the food industry, cooking sprays and whipped cream have become everyday essentials in numerous households. The applications are boundless, encompassing everything from life-saving substances to delicious foods, all efficiently stored within highly recyclable aerosol containers.
The benefits of aerosol packaging
Thanks to their user-friendly nature, safety features, and sustainability, aerosol cans have the power to revolutionize your products and elevate your business. CANPACK, a leader in container manufacturing, maintains the highest industry standards, and our aerosol offerings are no exception.
Each can is hermetically sealed, guaranteeing protection against leaks and ensuring easy tamper checks. These cans prove to be cost-effective for both consumers and producers, while being incredibly convenient for storage, packaging, and transportation. Steel aerosol containers also stand out for their efficiency and ease of use, requiring just a quick finger press for most applications. They excel in providing a uniform spray-coating when applying paints and industrial products, enabling users to achieve multiple coats effortlessly. These factors allow users to experience a new level of performance when it comes to pressurized packaging.
Custom aerosol packaging that's ready to turn heads
Aerosol cans are ingeniously designed with a combination of the intended liquid product and a propellant. These propellants usually consist of a highly compressed gas, remaining in a liquefied state. Once hermetically sealed, a pump or compressor efficiently dispenses the product by pressurizing and blending it with the liquid gas propellant. In certain designs like the "bag in valve," a filled bag resides within the aerosol, preventing direct contact between the product (e.g., shaving foam) and the propellant, thus preserving product integrity. Additionally, some containers are equipped with ball bearings for optimal mixing, while others simply require a good shake.
Packaging plays a crucial role as one of the initial touchpoints on the consumer's journey. When it comes to customizing aerosol packaging to perfectly align with your product or brand image, the options are virtually limitless! At CANPACK, we offer an extensive range of solutions, including straight-wall or necked-in containers, available in various volumes. Shapes, colors, and designs can also be personalized to make your brand truly stand out among competitors.
Our commitment lies in delivering consistently high-quality finished products. Equipped with the latest production and printing technology, our team comprises specialists who are veterans in their field. With meticulous attention to detail, our graphic designers ensure that each project achieves its maximum creative and technical potential, while always carefully preparing the lithography. Our ultimate goal is to make the finished product not only good, but truly exceptional! Every order can be tailored to meet specific market needs, industry categories, or brand histories – all with the purpose of deeply engaging with customers.
Considering different industries and their unique requirements, we carefully factor in various styles, shapes, and sizes when creating the final product. Going with metallic and glitter effects can significantly enhance exposure, allowing you to forge a stronger connection with your customers and effectively express your brand's narrative and direction.
Aerosol cans that will stay on your mind
CANPACK presents a vast array of aerosol can print options, and with 11 distinct effects to choose from, the first encounter with your product is sure to leave a lasting impression. For a classic and premium appearance, the #MATT finish offers the perfect choice, with its tactile and pleasant texture extending across the entire can body. Alternatively, those who prioritize the visual appeal can opt for the #PEARL finish, which exudes a similarly prestigious vibe as the #MATT finish, with brilliant contrasts and a high-quality printed image. You won't overlook a can like this while browsing the store! Explore our full range and unleash your imagination, and discover even more captivating effects to transform how consumers perceive your brand.
CANPACK – your new partner in adding visual value to your product
CANPACK is your dedicated partner in enhancing your business and product. Beyond making strategic contributions, our company takes pride in being a reliable advisor, accompanying clients from the very inception of the can design process. With our profound expertise in the field, CANPACK proactively identifies potential production challenges and offers pragmatic solutions to avoid any disappointments.
Occasionally, a client's project may not fully align with their initial vision in terms of color range, special patterns, or varnish application. This is precisely when CANPACK steps in, applying its extensive industry knowledge and experience. We readily assist in addressing technical issues, making informed decisions, and providing valuable insights into global market trends. As a result, we achieve a final outcome that consistently exceeds our client's expectations, bringing their creative vision to life with the visual splendor their product deserves.
Sustainability and the future of packaging
Environmental issues are a hot topic these days, and for good reason. CANPACK remains committed to raising recycling awareness and spearheading the development of sustainable solutions. In 2019, we introduced our comprehensive global sustainability policy, centered around three key factors: Care, Sustain, and Recycle.
Efforts to enhance raw material efficiency have also been a priority for us. In the category of aerosol cans and steel packaging, we have made substantial strides by reducing container wall thickness without compromising on quality, efficiency, or structural integrity. These sustainability initiatives not only lead to materials and transportation cost savings for the industry and end users, but also contribute to the advancement towards a more sustainable future. For more details on our continuously evolving sustainability efforts, refer to our comprehensive sustainability report.