Okocim Jasne Selects CANPACK's QUADROMIX Technology to Print Limited Edition, Humorous Cans
Commercial | February 22, 2023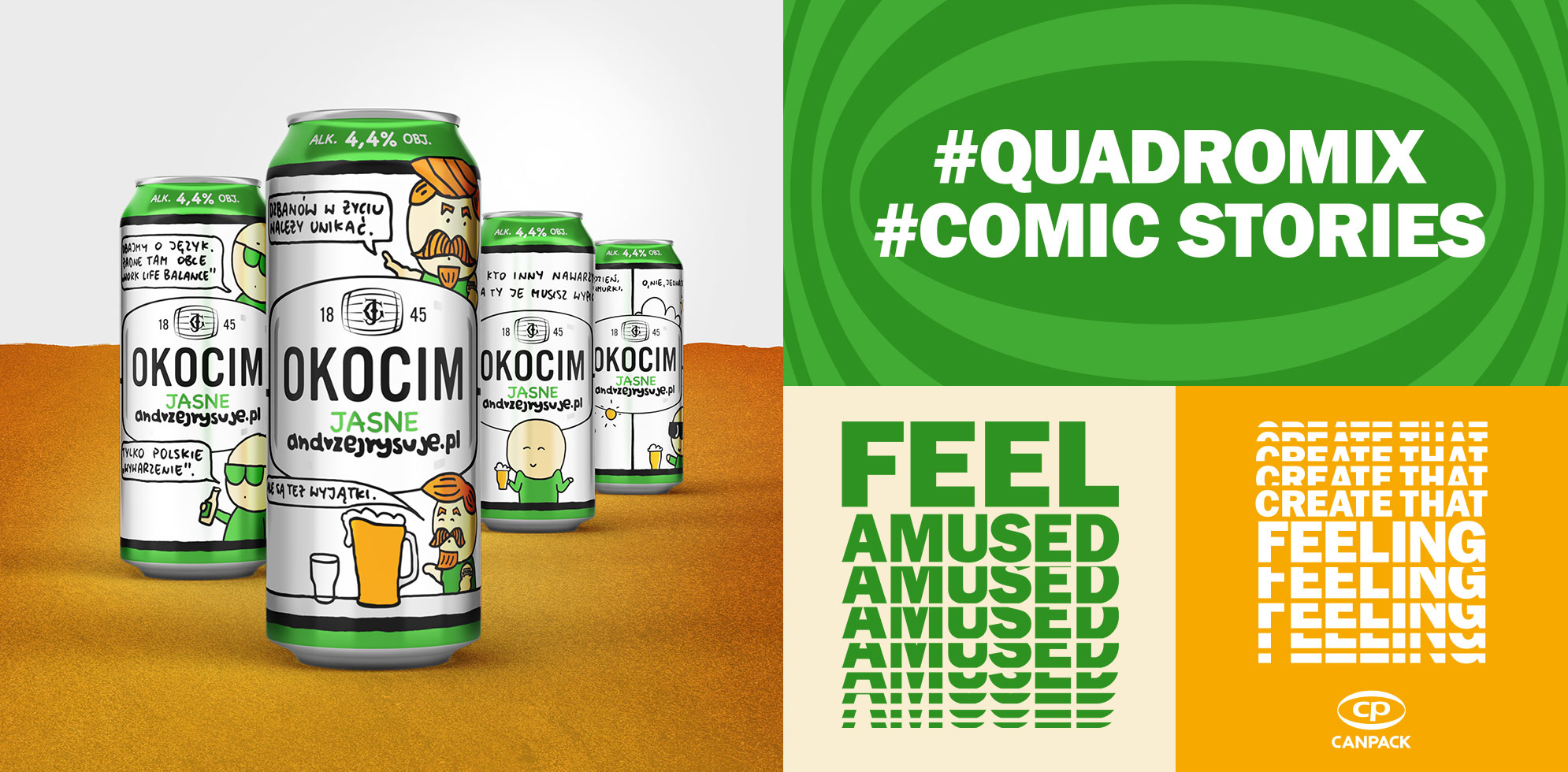 KRAKÓW, POLAND (February 22, 2023) – Okocim Jasne, a Polish beer brand owned by Carlsberg Group has chosen to partner with CANPACK, one of the largest manufacturers of metal packaging in the world, to bring to life its brilliant new idea for packaging design: comic cartoons on beer cans.
This daring concept aims to appeal to young adult consumers who embrace novelty. According to the market research IRCenter (Youth Report 2021), as many as 92% of the age group say that they actively look for new experiences from familiar brands. Alternative humour is also perfectly on trend with youth culture right now.
Spokesperson at Carlsberg Polska, owner of the Okocim brand, says: "To implement this unique project, we needed to collaborate with someone whose work is bold and at the same time comments on reality in a funny and penetrating way. Without hesitation, we contacted Andrzej Rysuje."
Andrzej Rysuje (which means "Andrew draws") is the pseudonym of Andrzej Milewski, best known for his cartoons in the Polish daily Gazeta Wyborcza. His faux naïf style is heavily satirical and often subversive, referring to topical issues in ironic and challenging ways. His popularity in the local market made the cartoonist the ideal choice for creating a unique set of collectors' edition beer cans.
He created four designs for Okocim Jasne, each can telling a funny story with a wry observation on the theme of drinking beer and Polish culture. Consumers can buy individual cans and choose their favourite cartoon or buy a 4-pack with the themes randomly mixed and only revealed when the wrapper is removed. The added attraction of collecting a set of cans that make them laugh engages consumers even more closely with the brand.
CANPACK, thanks to its range of printing capabilities and through the company's long-standing partnership with Okocim and Carlsberg, was the natural choice for creating these unique cans. They were produced using CANPACK's innovative QUADROMIX technology, which allows four different designs to be printed in a single production run.
Stephen McAneny, Chief Commercial Officer at CANPACK says: "QUADROMIX technology is the perfect solution for brands to tell their stories through the product packaging. Okocim Jasne has used this to maximum effect – not just cans that tell stories but cans that make consumers smile and make them think, too."