Why choose glass beverage packaging?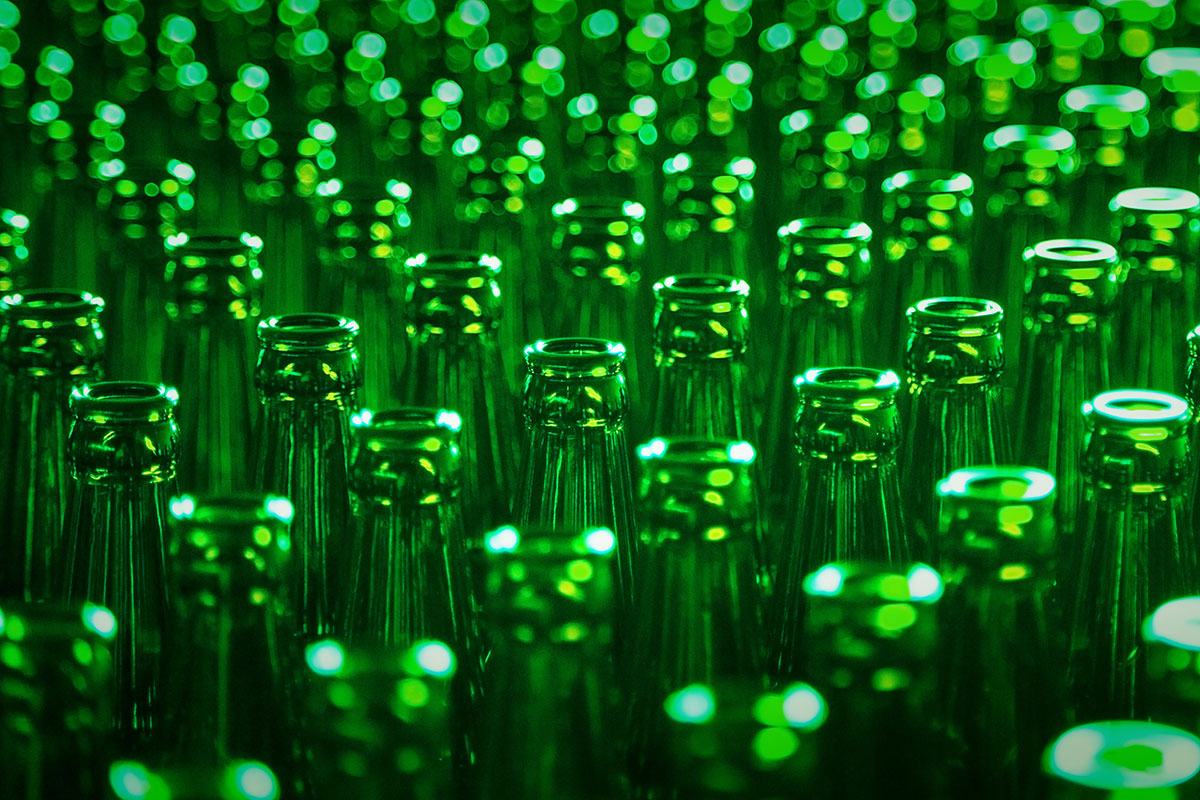 Aesthetic, hygienic, and durable. Thousands of food and beverage manufacturers around the world rely on glass packaging to store their products. There are even more advantages to glass packaging than you might think, and when compared to plastic containers, they are also a significantly more environmentally friendly solution. Find out how a simple glass bottle can help elevate your product above all the others.
What is glass beverage packaging?
Glass is one of the oldest and most highly trusted packaging materials used by consumers. Its history dates back over 5,000 years, and despite the passage of time, this material continues to shape today's production trends, delivering exceptional quality, durability, and sustainability. Glass packaging is made of various materials, including cullet, sand and other additives that enhance the stability of the mixture, while giving the bottles or jars their distinct look. First, the materials go into a special furnace where they are melted at very high temperatures. The molten drops are then processed into special molds which give the glass containers their shape.
The process of making glass containers is equally complicated and impressive to behold. Specialists must carefully monitor the process in order to obtain glass bottles that are of a high quality, the right density, and also ensure that there are no flaws or compromises in the integrity of the final structure. Through this, they can ensure that the packaging is strong, damage-resistant and guarantees consumer safety while also providing a unique experience.
What are glass beverage bottles used for?
Glass packaging is used to store various types of beverages. These bottles are most often used by producers of alcohol, juices, and carbonated and non-carbonated mineral and spring waters.
Beverage storage is subject to numerous quality requirements, such as glass thickness, transparency, and overall hygiene standards just to name a few. This is especially true when it comes to goods that are sensitive to light or foreign gases. PET plastic bottles may not be airtight enough in certain instances. This is why countless producers choose to use glass bottles instead, which give drinks an invaluable protective barrier while looking exceptionally stylish, making them the perfect tool in presenting the value of your brand while emphasizing its unique qualities.
Key benefits of choosing glass beverage bottles
Glass bottles are simplicity and innovation combined into one stylish package, and are a popular choice for preserving and showcasing a wide range of products. They are also highly aesthetically pleasing when compared to traditional plastic or cardboard packaging, due to their smooth and transparent surface that helps showcase the vibrant colors and textures of the beverages inside. These unique features elevate the overall presentation and create a sense of sophistication and elegance. Glass is a tool that helps a wide range of beverage producers enhance their products' image and reputation, no matter how high the bar is set.
Reusable – Glass bottles benefit from being reusable as they can be easily recycled, and depending on the previous contents, can even be used to store the same or other products. This is an advantage for producers that offer beverages in returnable bottles, and consumers who use like to use glass bottles to store homemade products.

Recyclable – The key advantage of glass bottles is that they are 100% recyclable. The ability of glass to be reused indefinitely makes it an invaluable material in the implementation of sustainable development policies. The glass bottle recycling process is also a closed loop that creates no by-products, and it is one of the few materials that can be recycled without a loss of quality. This wonder-material significantly helps in reducing negative impacts on our environment.

Pollution free – Glass bottles are highly hygienic due to their non-porous, non-toxic and impermeable properties. They also perform very well in low and high temperatures. Glass does not produce any additional particles, nor does it interact with its contents. Products can be stored in glass bottles for a very long time, without the risk of losing their original taste, intensity, consistency, color, nutritional value or aroma.

Showcase your brand values – The basic function of glass bottles is the safe storage of beverages, but you may be interested in knowing that they play another important role as an invaluable sales and marketing tool. The look of a bottle can determine the "to be or not to be" of a product on the market, and that's why we offer customers a comprehensive approach to the production of glass containers.

Sustainable – In general, all glass bottles are sustainable. But we also use innovative technology to develop ultra-light SMART bottles, which are 29% lighter than standard packaging and require significantly less material and energy to produce. A perfect complement to these bottles would be the new generation of downgauged 0.17 mm G2 caps.
Your trusted glass packaging manufacturer and partner
We are proud to be one of the major players in the packaging industry, cooperating with both large and small enterprises around the world. For years, we have been supplying high-quality glass bottles that are optimized right down to the smallest detail. Our teams have worked together with customers on truly unique projects, and when it comes to glass bottles, there are nearly countless distinct possibilities that you can choose from. Create it your way by selecting from a range of bespoke size or shape options, changing the color, and even customizing the printed crown to suit your needs. You can also take a consumer's experience to the next level by featuring embossing that can instantly be felt under their fingertips. These are just a few of the many great opportunities that can help establish a relationship with the consumer and have your bottle create a lasting impression.
We are not only a trusted producer of glass bottles, but also a reliable business partner. We help customers bring their vision to life by actively engaging them throughout the production process. Our team is also highly experienced in providing guidance on packaging design, while also supporting customers in their pursuit of sustainable development goals. Grab your favorite bottle and let us make your next or current product truly shine!