PERSONALIZED PACKAGING BOOSTS BRAND EQUITY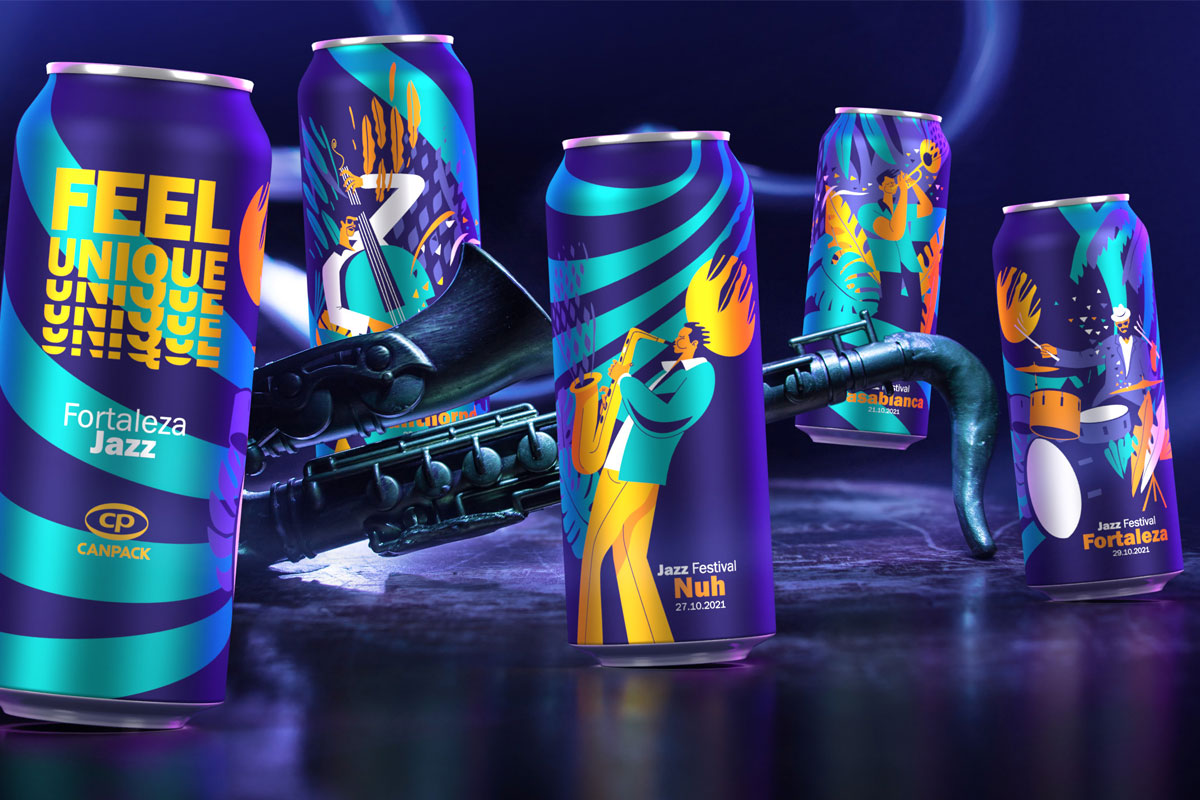 The COVID-19 pandemic has seen a major shift to online shopping, with fewer physical, in-store interactions than ever. This has heightened the importance of the sensory interaction with all products, in which packaging plays a vital role. Coupled with a rapid rise in new market entrants, driven by a boom in smaller craft producers entering markets without the budget for splashy, above-the-line ad campaigns, brands are looking for more innovative ways to provide new experiences and sensations for customers through their packaging. As the strategic importance of packaging becomes more evident, so the value of the CANPACK proposition – as genuine creative partners and specialist consultants – increases.
And with marketing directors recognizing the increasingly important role of packaging in the marketing mix, often as the result of first-hand experience with a product of their own, so they invest more time, energy, and creativity in working with innovative packaging solutions consultants, often seeing impressive results from these collaborations.
As Stephen McAneny, Group Commercial Officer at CANPACK explains, this realization of the power of packaging is the reason more brands are investing in the full capabilities CANPACK can bring to packaging solutions
Personalization and meeting customer expectations
According to a survey from market research firm Mintel, 43% of consumers expect products to meet their personalized needs. They expect products to come in personalized packaging, to tap into what matters most for them to build relevance and engagement. As McAneny says, "Brands that can treat a consumer on a personal level are more likely to build a strong connection and that connection builds loyalty, which in turn is what creates brand value. CANPACK is a leading manufacturer of drinks packaging and we specialize in using techniques that support this personalization. We were originally founded to produce aluminum drinks cans, but in recent years we have reinvented ourselves, not only expanding into other high-quality materials, but transforming standard packaging design and manufacturing into something closer to a consultancy service. We see our customers as partners, helping them to innovate, be more creative and develop new solutions."
Central to this service, says McAneny, is the increased desire for personalized products. "We understand the value of the personal. Our QUADROMIX technology, can produce four different designs, with two color sets, within a single production run. This is perfect for creating limited series cans with engaging designs that tell a compelling brand story. For special occasions, our MULTI PRINT service allows production of up to 24 designs within one run, which is particularly useful in the creation of unique promotions."
The element of surprise
A lot of the fun in packaging comes from the moments when you can surprise or delight a consumer. CANPACK excels at helping its clients create such moments, using special inks that glow in the dark to offer cans that surprise consumers with unexpected designs and personal messages. And using Thermo ink CANPACK can play with design elements that change color depending on the temperature of the drink.
This was the approach CANPACK took with a major European lager brand. As the official sponsor of its home country's national ice hockey team, they wanted help in capturing the cool, competitive spirit of the game. CANPACK helped to capture the atmosphere of the rink with four textured cans that reacted to temperature. To make this happen required mixing three different effects for the first time to create a choice of four limited-edition hockey cans. These cans certainly created unforgettable moments at the Ice Hockey World Championships, with personalization, texture, and a secret message when chilled. It was no surprise when the can design picked up a silver award in The Canmaker Cans of the Year Awards.
Every brand and every product are different, and each one has a different story to tell in a different market context. What is really positive for CANPACK is that the range of services and techniques it can offer means the possibilities are endless for clients.
Keeping it relevant
To really resonate with consumers, any special message needs to have meaning and be relevant to their life and environment. When a leading Polish lager brand wanted to spotlight the importance of wildlife conservation, highlighting the need for greater protection of Polish wildlife and the country's endangered species, it partnered with the World Wildlife Fund (WWF) and CANPACK.
To ensure immediate consumer engagement, the company built the campaign around packaging, replacing the image of its usual brand animal logo, with images of other Polish forest wildlife: wolf, lynx, and pygmy owl. To achieve the desired effect, the company deployed CANPACK's QUADROMIX technology, enabling production of cans with up to four different full-color designs in one batch. The engaging designs appeared on store shelves in record time to grab attention and shine a light on this important issue.
The campaign hit the mark with consumers and the Polish public. According to the research conducted by the brand owners, 95% of those surveyed positively assessed the campaign. Moreover, the perception of the brand improved as it shifted its positioning towards a responsible and engaged brand.
Sustainability key to success
Environmentalism and sustainability in general are major concerns for the packaging industry and brand owners and they are also at the heart of the CANPACK business model. As McAneny explains, "We are proud to be a company that puts such a big focus on sustainability. We are continually working to improve operations and are always focused on permanent materials that are fully recyclable and can be recycled over and over with no loss of quality."
For McAneny, this is without doubt the most important issue within the packaging industry now and it matters so much for consumers that it is driving a lot of reputational brand equity. "Aluminum has recycling rates of over 70% in the EU, more than 80% in Poland and in some countries it's as high as 99%."
He cites a recent study in the peer-reviewed journal Detritus found that aluminum cans are unarguably the most sustainable packaging option. For two years running, CANPACK has been recognized by the global independent sustainability ratings platform EcoVadis for its social and environmental activities, culminating in the award this year of a Gold certificate for the company's social responsibility and sustainability performance. This achievement places CANPACK in the top 5% of the 70,000 companies assessed by EcoVadis in 2020.
"Over the last year, we have significantly accelerated our sustainability agenda," says McAneny. "This has resulted in an improved sustainability performance and is reflected in scores achieved for environment, labor and human rights, ethics and sustainable procurement. We are proud of our credentials and very happy to help our clients build reputation and brand equity for sustainable and environmentally sound packaging."
The need for comfort in a pandemic
While the climate crisis and sustainability are long-term issues that packaging can help a brand address, there are also short-term impacts from the pandemic that have seen brands react in particular ways.
"During the pandemic, many consumers have re-considered their relation to their surroundings, including nature," explains McAneny. "This shift to nature and localism can be reflected in packaging design using soft colors and textures, imitating natural wood or stone. This kind of design can be enhanced with our Matte varnish, which underlines the natural origin and craftmanship and gives a classy, vintage look and feel to the design. Satin varnish is another option, giving that kind of fabric texture and a super-premium look and feel."
Thanks to brand owners recognizing the strategic value of packaging and the quality of CANPACK's design and innovation consultancy, the company is increasingly getting involved with brands at the earliest possible briefing stage, bringing it technical expertise, experience and creativity to projects ranging from new product launches to re-brandings and one-off special projects.
"As brand owners recognize the increased value and significance of their products' packaging, so we continue to enjoy innovating with ever-more complex technical solutions that help them deliver even better results from their brand campaigns."