Franklin & Sons Are Whetting the Appetite of Health-Conscious Consumers Thanks to CANPACK's Slim Cans
Commercial | February 14, 2023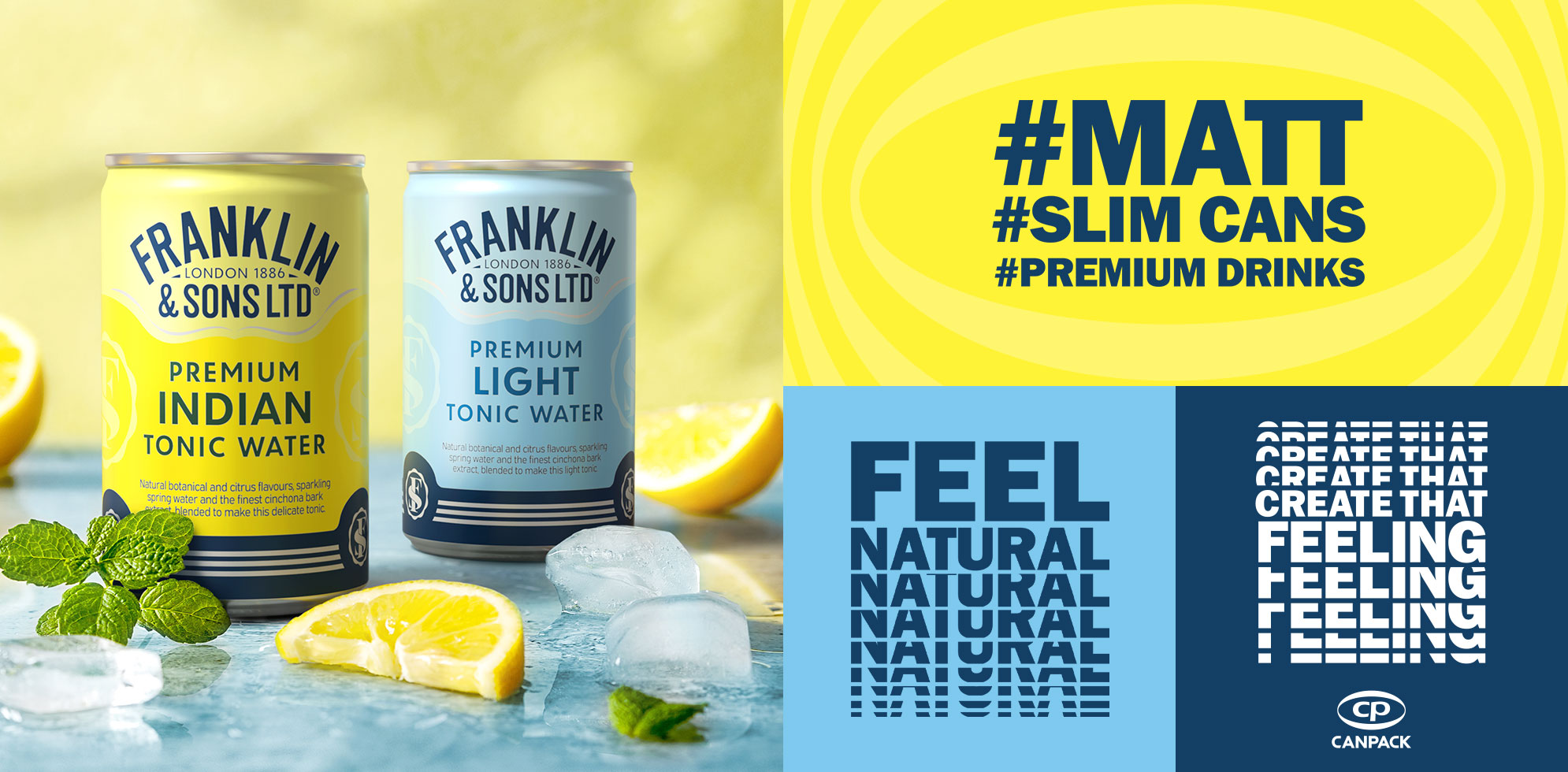 KRAKÓW, POLAND (February 14, 2023) – UK soft drinks pioneers Franklin & Sons have recently cooperated with CANPACK to introduce a convenient 150ml aluminum can size for its latest tonic water lines.
Since 1886, Franklin & Sons have been creating a remarkable range of premium tonics, softs, and sodas, that combine natural flavours with premium ingredients. Its drinks never include preservatives or sweeteners, but only natural botanical and citrus flavours, and the finest cinchona bark extract.
These new single-serve tonic water lines are set to showcase the company's natural ingredients to an audience placing a premium on sustainability in a convenient format when making purchasing decisions.
With consumers gravitating towards recyclable products, it's important for brands to convey that message, while also creating a memorable experience. The metal can, infinitely recyclable, is the natural companion for this sustainable experience.
"At Franklin and Sons, every serve is an opportunity for a drink to be elevated by natural flavours and premium ingredients," explains Tom Singleton, Business Director at Franklin & Sons. "We use our experience and heritage to craft tonics, softs, and sodas that are remarkable, and turn ordinary moments into extraordinary ones."
"This vision proved to be a natural fit with CANPACK's approach to packaging," adds CANPACK's Stephen McAneny, Group Commercial Officer. "For us, too a can is not just a can, it's a catalyst, offering chances to stimulate the senses and speak volumes about the promise and experience of its quality contents."
Drawing on CANPACK's reputation for perfect print execution, these premium beverages have an appearance respecting the brand's heritage yet showcasing a modern approach to drinks packaging with a clean and clear visual design. Their natural, premium ingredients are evoked by a cool and contemporary matt finish across the entire surface of the cans, which is presented in a convenient slim can.
Remarkable drinks, without compromise.
Franklin & Sons drinks were first introduced in 1886, by the Franklin brothers who pioneered the introduction of sodas and non-alcoholic beverages in the UK after a visit across the Atlantic. From pioneering roots, we continue to grow the brand to this day with passion, simplicity and great taste at its heart.
Franklin & Sons have an extensive award-winning product range, including tonic waters, flavoured tonic waters, soft drinks and sodas. Each unique creation includes natural flavours and ingredients and never includes preservatives or sweeteners. With our variety of flavours we elevate drinks to turn the ordinary into the extraordinary.
Franklin & Sons set benchmarks for success year on year by continuing to win awards in a variety of categories including Great Taste Awards, The Spirit Business Tonic & Mixer Masters and The Bartenders Brand Awards.
To keep up with everything Franklin & Sons follow the brand on @franklinandsons or visit www.franklinandsons.co.uk where you can purchase all Franklin & Sons products.