To mark the upcoming 2022 Winter Olympic Games in Beijing this February, Slovenian brewer Pivovarna Laško Union has initiated 
an ingenious marketing campaign for its Laško brand
. The initiative is set to raise awareness and highlight the potentially catastrophic impact of climate change on future Winter Olympics if our planet keeps heating up.
In a campaign to save the depleting number of icebergs globally, as part of the initiative, an expedition has been organised from Slovenia's capital Ljubljana to Beijing. The expedition team will carry with them a small piece of the Triglav Glacier, the national symbol of Slovenia, which is also the symbol of depleting icebergs globally.
To support the campaign, Laško beer has released a limited-edition Winter Olympics can to coincide with the games, as Urban Kramberger, senior brand manager from Pivovarna Laško Union, explains:
"A can is packaging with a strong storytelling and communication potential and at Pivovarna Laško Union, we have used it to its fullest. Consumers are now becoming more engaged with environmental issues and being able to educate consumers via our packaging is a real honour."
As a trusted partner, 
CANPACK
 has been tasked with producing cans for this project. Pivovarna Laško Union's limited edition can design encourages consumers to find out more about the campaign via the interactive QR code.
"CANPACK has supported Pivovarna Laško Union on its mission to save the glaciers by producing infinitely recyclable cans," explains Stephen McAneny, Chief Commercial Officer, CANPACK. "The use of 
CANPACK's Hi-Res effect
 captures all the details of the beautiful design, whilst the Thermo effect indicates the right drinking temperature and adds a surprising and engaging twist to the can.
"As a society, it's important for us to combat global warming and act as ambassadors for the environment. As a partner of Pivovarna Laško Union on this project, we're delighted to support the campaign's outcomes to fully respect the planet we inhabit."
CANPACK Group is working tirelessly to support sustainability issues globally and has recently released an ambitious new sustainability directive. Globally, all its plants will use 100% renewable electricity by the end of 2022, where possible.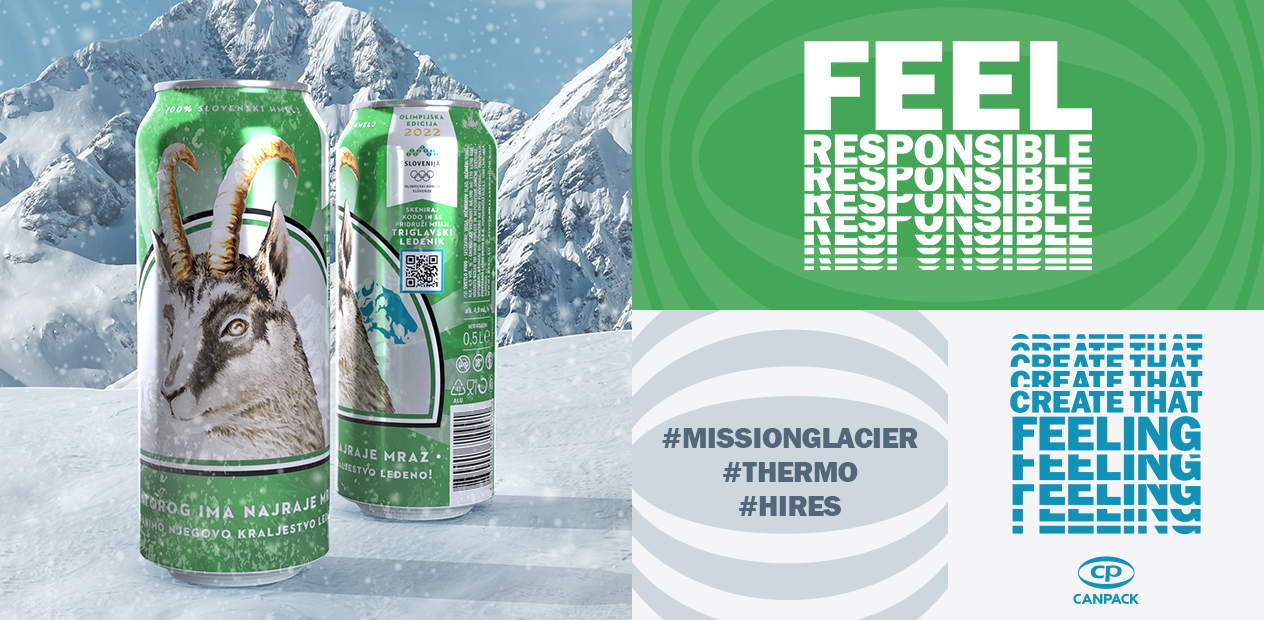 CANS ARE RECYCLABLE
Cans are made of permanent material that's INFINITELY RECYCLABLE with no loss of quality.
They can be back on supermarket
shelves as a new drink cans
in as little as 60 days!
Feel responsible