CANPACK USES 3D PRINTING TO MAKE FACE SHIELDS FOR MEDICAL PROFESSIONALS
Sustainability | April 4, 2020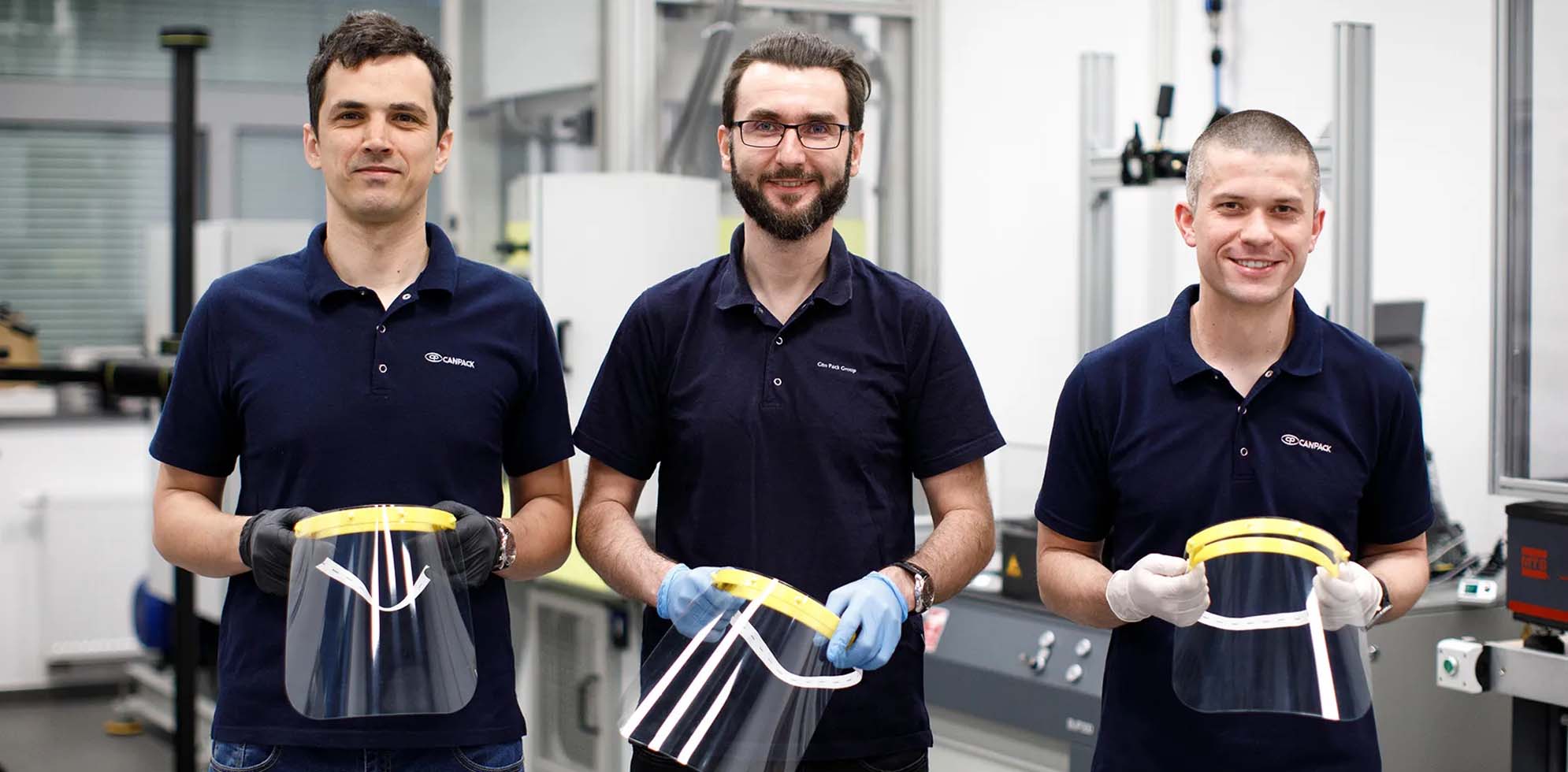 KRAKOW, POLAND (April 4, 2020) – The CANPACK Group, a global packaging manufacturer with its headquarters Krakow, has joined in the fight against the coronavirus pandemic. The R&D department of the CANPACK S.A. Branch Business Support Services in Brzesko has begun using 3D printing to make face shields which will be delivered to local hospitals. The project is funded by the CANPACK Foundation as part of the employee volunteer program "Time to volunteer."
"We plan to print 500 face shields, and achieving this goal depends on the durability of the equipment, which is being used with greater intensity than usual. We have 100 units ready, of which 40 have already been passed on to local hospitals and nursing homes in Tarnow and Dabrowa Tarnowska. The next printed units will be delivered to the County Public Care and Treatment Facility in Brzesko and to the Nursing Home of the Congregation of Sisters Servants of the Blessed Virgin Mary" – said Przemyslaw Wedrychowicz, Implementation and Development Specialist at CANPACK.
The CANPACK Group has also contributed material and financial assistance for hospitals and ambulance stations in Brzesko, Bydgoszcz, Tychy, Tarnow, Debica, Orzesze, and Krakow. So far, the company has completed seven deliveries with a total value of 125,000 zlotys. The packages delivered to the institutions have included basic personal protective equipment, such as safety goggles, antibacterial liquid soap, hand sanitising gels, triple-layer protective face masks, FFP2 half-face masks, face shields, as well as antibacterial and anti-virus liquids, and surface sprays.
Personal protective equipment has also been delivered to institutions providing care for chronically ill and disabled patients – the Hospice in Brzesko and Katowice, as well as the Nursing Homes in Brzesko and Orzesz. In addition, at the initiative of CANPACK employees within the employee volunteer program and in cooperation with the municipality of Rzezawa, materials were purchased to make 3,500 face masks for hospitals in Bochnia and Brzesko, local medical services, and support services.
CANPACK will also provide funds to purchase two pieces of specialized medical equipment with a total value of 287,600 zlotys for facilities in Krakow and Tarnow. The hospital in Krakow will be provided with equipment that allows simultaneous replacement of kidney and liver functions, while the facility in Tarnow will receive equipment for bio-decontamination, which is necessary for quick and effective removal of all kinds of microbial contaminants.
"CANPACK has always tried to support the local communities in which we operate. In this state of pandemic, the questions of health protection and support for medical professionals are particularly important. We are very happy that, thanks to the competence and commitment of our employees, we can support the health care service by printing face shields which are very much needed today, and by providing necessary equipment to medical facilities, both in Poland and in other countries where we operate." highlights Malgorzata Podrecka, Vice-President of the CANPACK Group.