>
>
International Friendship Day
Feel Special cans is a concept created by the CANPACK Graphics Team for the occasion of International Friend's Day. The four cans feature different colorful friendship bracelets and messages. A combination of special effects enhances the design, delivering a unique experience from the very first glance to the opening moment.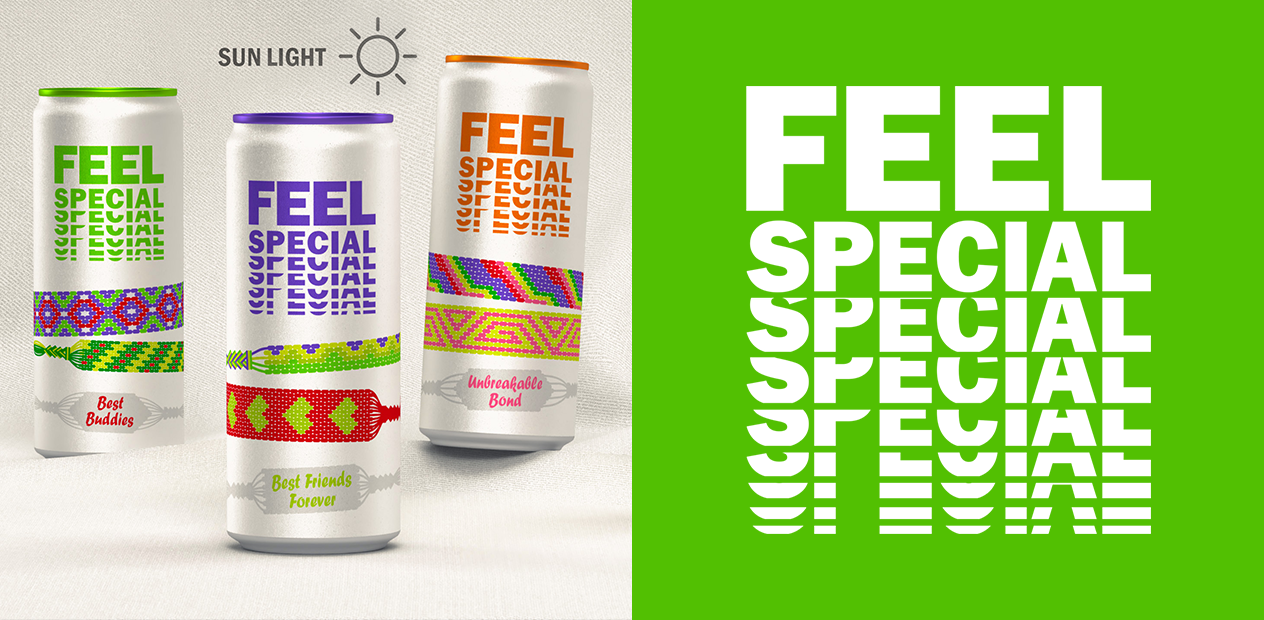 "With the creation of dedicated packaging concepts, we can inspire our customers. We have tools and capabilities so that we can play an active role in packaging design development and support our customers starting from the conceptual stage of the project."
THE BRIEF
The perfect packaging will meet safety and quality standards, while enabling the right route to market, fitting the brand storytelling and consumption occasion, and catching the attention of the consumer. Therefore, packaging becomes the ultimate sales tool for new products and should never be an afterthought in the product development process. New products only have one chance to enter the market, so close collaboration on the packaging side of things becomes even more valuable. Once early decisions have been made, we are here to assist with the rest.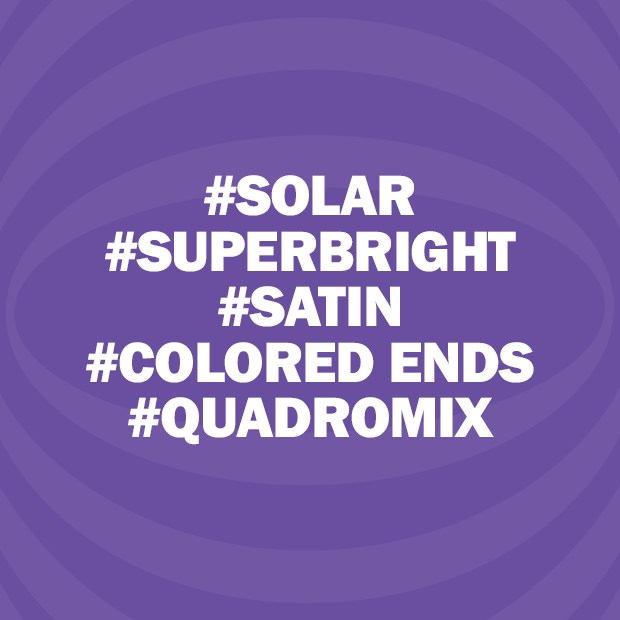 Benefits

MAKE SURE THAT THE DESIGN IS BOOSTED TO THE MAX

REVIVE YOUR DESIGN WITH CHANGING COLORS

FOUR DIFFERENT DESIGNS IN A SINGLE PRODUCTION RUN
How we created that feeling
At CANPACK, we strive to squeeze the maximum potential out of each project and make sure the best end-results are delivered, and Feel Special cans are no exception.
SUPERBRIGHT inks make the colorful design elements particularly vibrant and appealing to the consumer. SOLAR inks reveal hidden elements of the design when the packaging is exposed to sunlight, thus complementing the story. The SATIN varnish applied on the can body creates a fabric texture at the fingertips. COLORED ENDS complement the can body and provide a unique drinking experience. Thanks to the use of CANPACK QUADROMIX technology, which enables up to 4 different designs to be produced in one production run, the cans feature 4 different messages and bracelet combinations.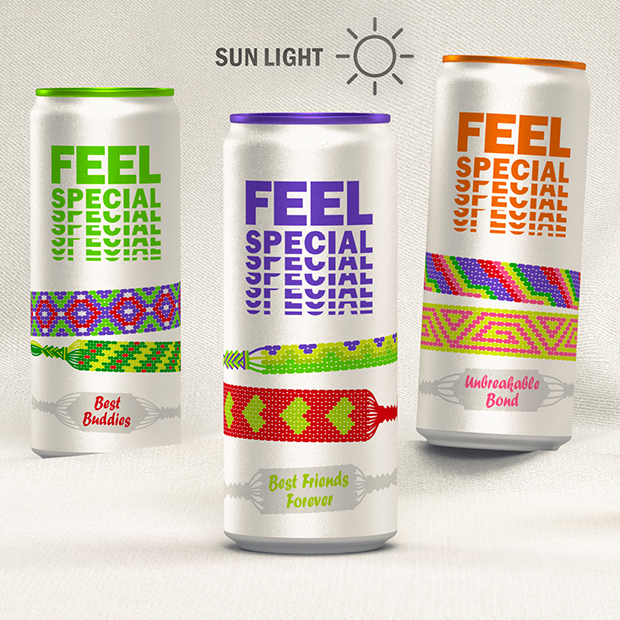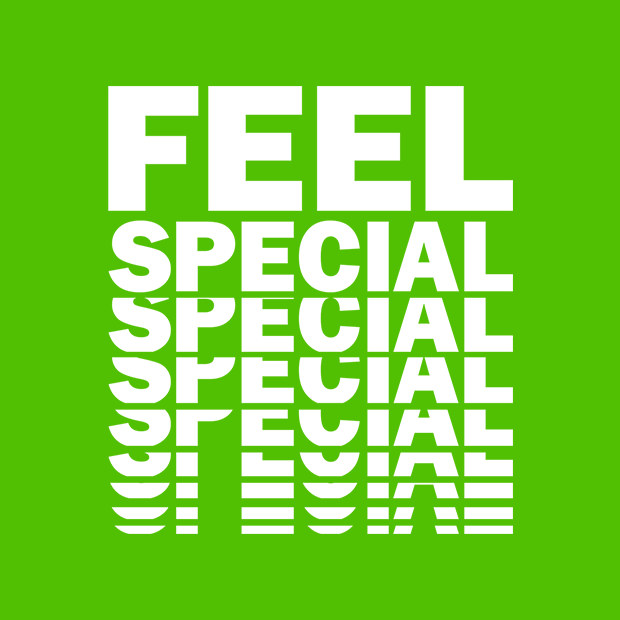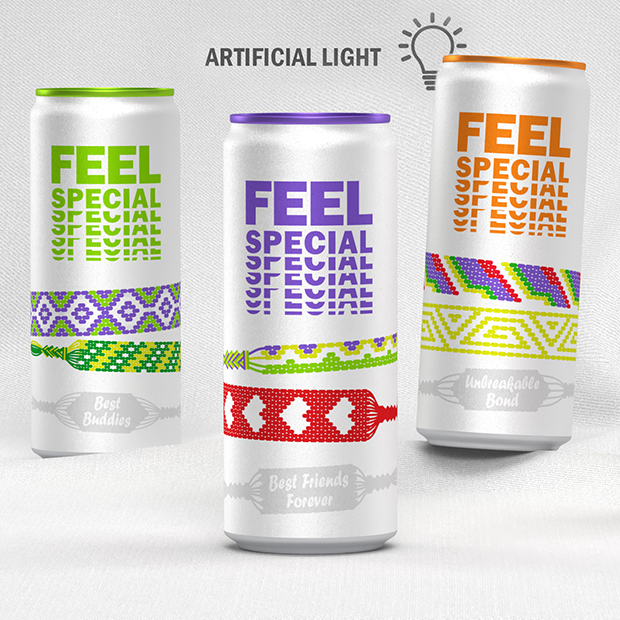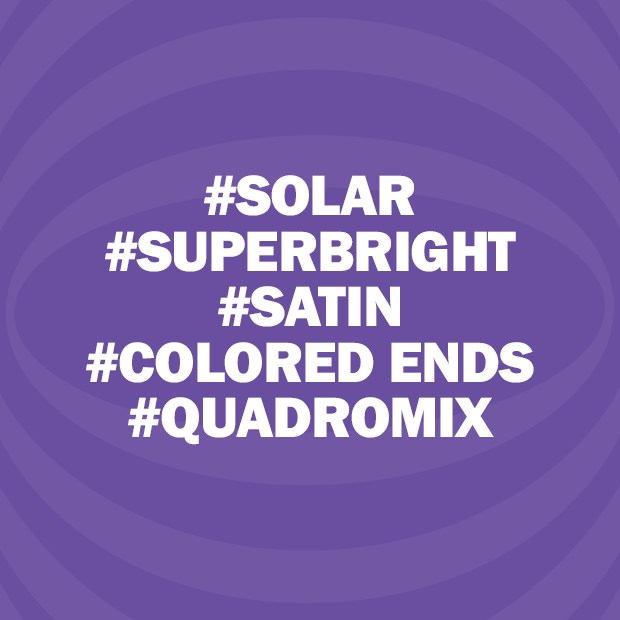 "We adopt a comprehensive approach to the packaging design, paying attention to the smallest details. 9,000 colors and a range of over 20 special effects create endless possibilities when it comes to compelling storytelling. The combination of colors and effects on Feel Special cans attracts consumer attention, provides a unique touch and feel experience, and creates an element of surprise."

CANS ARE RECYCLABLE
Cans are made of permanent material that's INFINITELY RECYCLABLE with no loss of quality.
They can be back on supermarket
shelves as a new drink cans
in as little as 60 days!
Feel responsible