Czech energy drinks company Hacker is seeking to disrupt the status quo when it comes to traditional energy drinks. With its branding being an ode to a new youthful generation fascinated by the concept of 'disrupters' on a political, social, and cultural level, Hacker is standing out from the crowd by using authentic ingredients, which is accompanied by unique can design.
"Consumers are now increasingly attracted to unique products that provide them with that all-important energy boost to get them through the day and night," commented a company spokesperson. "Hacker Space Energy mirrors the latest trends in not only providing an energy-boosting formula, but it's a drink that will help them express themselves and suit their lifestyle.
"And with the can, the perfect companion for our customer's on-the-go lifestyle, we're joining the Underground Energy Revolution in defeating fatigue, and sharpening the senses."
With a range of classic, tropical, and blue razz flavors, the Hacker Space Energy range utilizes key vitamins and ingredients to ensure the product is not simply a style over substance.
Hacker uses ingredients such as Guarana and Ginseng, two energy-boosting supplements, to help boost energy and reduce fatigue. Likewise, the cans are loaded with Vitamins including B12, B6 and B2 for long-lasting energy.
As the perfect partner for companies seeking attractive print execution, CANPACK was tasked with bringing to life a bold can design to enhance shelf appeal and to intrigue customers attracted to the benefits of improving their physical and mental performance, whatever the time of day.
CANPACK's MATT finish
 enables Hacker's range of handy slim 250ml cans to bring customers closer to the company's 'disrupter' world, as Stephen McAneny, Group Commercial Officer at CANPACK, explains:
"Hacker perfectly blends the increasing consumer demand for enhanced energy, with the added formulation seen in the 'better for you' drinks market. Disruptive to the eye and smooth to the touch, our market-leading Matt finish ensures Hacker enhances its unique design and brand ethos. The Matt varnish on black cans creates a feeling of mystique that adds value and a point of difference into the rapidly expanding energy drinks sector."
CANPACK has enabled branding opportunities across the entire can, which has ensured Hacker has created a sleek black can with a black end and tab. This creates a premium feel and enhances the brand's mysterious storytelling potential.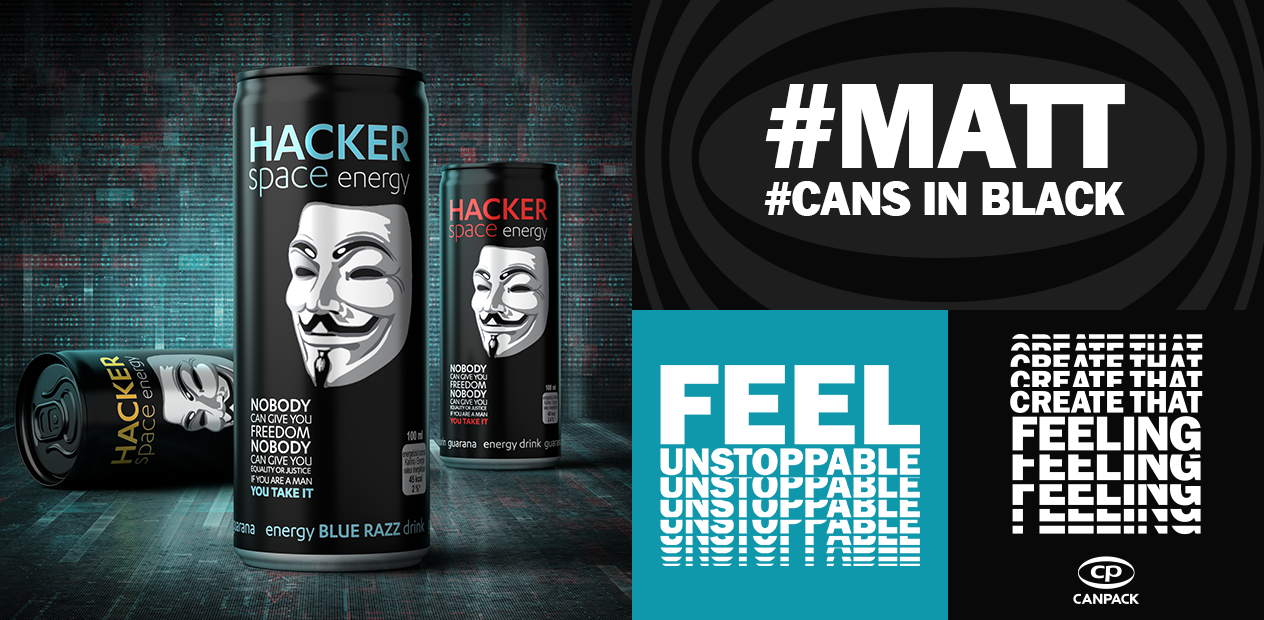 CANS ARE RECYCLABLE
Cans are made of permanent material that's INFINITELY RECYCLABLE with no loss of quality.
They can be back on supermarket
shelves as a new drink cans
in as little as 60 days!
Feel responsible